Samsung LC49RG90SS 124.5 cm (49") 5120 x 1440 pixels UltraWide Dual Quad HD QLED Black, Gray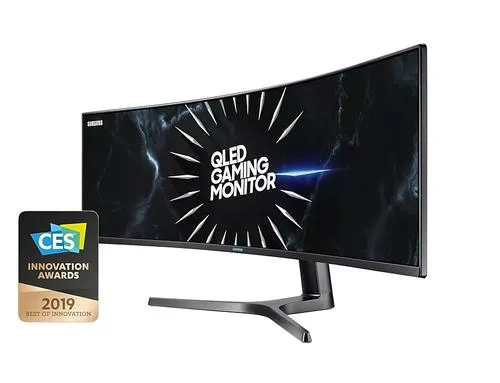 Manufacturer: SAMSUNG
Category: Computer Monitors
Short Description: Samsung LC49RG90SS, 124.5 cm (49"), 5120 x 1440 pixels, UltraWide Dual Quad HD, QLED, 4 ms, Black, Gray
We have this product with 1 supplier
Supplier 1
Product Name: 49in (32:9) 5K2K CURVE QLED MONITOR
Price 1: NZ$2,403.50 inc GST
Stock: 3
Ships from: Manukau, Auckland
Price & stock last updated: 2020-07-02 05:00:37
+Price History:
| Date: | Price: |
| --- | --- |
| 2019-06-11 | NZ$2,362.54 |
| 2019-10-15 | NZ$2,327.03 |
| 2020-01-17 | NZ$2,403.50 |
| 2020-01-29 | NZ$2,327.03 |
| 2020-01-30 | NZ$2,294.25 |
| 2020-02-01 | NZ$2,283.33 |
| 2020-04-23 | NZ$2,403.50 |
Doolz ID:
40525
Every effort is made to ensure the image(s) and/or product details are correct, but we cannot guarantee that they are. You should always check with us FIRST if you have specific requirements.
Info
49" QLED Gaming Monitor, 1800R, 32:9, 600cd/m2, 3,000:1(Typ), 5120 x 1440, 4(GTG)
Samsung LC49RG90SS. Display diagonal: 124.5 cm (49"), Display resolution: 5120 x 1440 pixels, HD type: UltraWide Dual Quad HD, Display technology: QLED, Response time: 4 ms, Native aspect ratio: 32:9, Viewing angle, horizontal: 178-, Viewing angle, vertical: 178-. Built-in USB hub, USB hub version: 2.0 / 3.2 Gen 1 (3.1 Gen 1). VESA mounting, Height adjustment. Product colour: Black, Gray
Description
Dual QHD Display The CRG9-s 5120 x 1440 Dual QHD resolution provides a super ultra-wide aspect ratio that helps let you view more content in superfine detail. With screen space equivalent to two 27-inch QHD displays side by side, the 49-inch curved monitor delivers a wide view for winning play. Super Ultra-Wide Curve With a Super Ultra-Wide 32:9 ratio, the CRG9 curves around your field of view to immerse you in all the onscreen gaming action. HDR1000 and QLED HDR1000 supports a peak brightness rating of 1,000 nits for true high dynamic range (HDR content). And with Samsung QLED technology delivering DCI-P3 95%-, colours are pure, bright and true to life. AMD Radeon FreeSync- 2 Based on the adaptive sync technology of the original AMD Radeon FreeSync- 2 HDR Technology helps to reduce stutter and screen tearing, premium features in FreeSync 2 include support for HDR content display, reduced input latency, and Low Framerate Compensation (LFC) for effortlessly smooth gameplay. 120 Hz Refresh Rate The rapid 120 Hz screen refresh rate helps to minimise image lag and motion blur for smoother gaming. The user-friendly 60 Hz settings let you quickly optimise performance via the on-screen display without having to access the display setting menu. Play to Win The game-optimised monitor is designed to let you play to win. Turn on Game Mode to instantly adjust contrast and colour settings for any game genre, switch to Low Input Lag Mode for fast response times, and target your enemies more accurately with Virtual Aim Point onscreen crosshairs. Picture-by-Picture With Picture-by-Picture you can connect and view input sources without degrading the original image quality. Picture-by-Picture offers convenience for PC games. For example, you can watch a movie and do a web search whilst playing your favorite game. Eye Comfort Eye Saver Mode reduces fatigue-inducing blue light emissions and Flicker Free technology suppresses distracting screen flicker, letting you play for longer with less eye strain. Optimized Viewing The swivel/tilt and height-adjustable stand offers all the flexibility you need to position the screen for maximum comfort. The panel-s VESA Standard mount also offers the option of mounting on VESA-compatible arms.
Specs
| | |
| --- | --- |
| Display diagonal | 124.5 cm (49") |
| Display resolution | 5120 x 1440 pixels |
| Native aspect ratio | 32:9 |
| Panel type | VA |
| Display brightness (typical) | 1000 cd/m- |
| Response time | 4 ms |
| HD type | UltraWide Dual Quad HD |
| Display technology | QLED |
| Screen shape | Curved |
| Supported graphics resolutions | 2560 x 1440,5120 x 1440 |
| Contrast ratio (typical) | 3000:1 |
| Maximum refresh rate | 120 Hz |
| Viewing angle, horizontal | 178- |
| Viewing angle, vertical | 178- |
| Display number of colours | 1.073 billion colors |
| Dynamic contrast ratio marketing name | Mega Contrast |
| 3D | N |
| Viewable size, horizontal | 119.3 cm |
| Viewable size, vertical | 33.6 cm |
| Display sRGB | Y |
| sRGB coverage (typical) | 125% |
| Colour gamut | 88% |
| NVIDIA G-SYNC | N |
| AMD FreeSync | Y |
| VESA Adaptive Sync support | Y |
| Built-in speaker(s) | N |
| Built-in camera | N |
| Market positioning | Gaming |
| Product colour | Black, Gray |
| Colour name | DARK BLUE GRAY |
| Built-in USB hub | Y |
| HDMI | Y |
| DisplayPorts quantity | 2 |
| Audio input | N |
| Headphone out | Y |
| USB hub version | 2.0 / 3.2 Gen 1 (3.1 Gen 1) |
| HDMI ports quantity | 1 |
| HDMI version | 2.0 |
| DisplayPort version | 1.4 |
| VESA mounting | Y |
| Height adjustment | Y |
| Panel mounting interface | 100 x 100 mm |
| Height adjustment | 12 cm |
| Swivelling | Y |
| Swivel angle range | -15 - 15- |
| Tilt adjustment | Y |
| Tilt angle range | -2 - 15- |
| Energy efficiency class | B |
| Power consumption (typical) | 100 W |
| Power consumption (off) | 0.3 W |
| AC input voltage | 100 - 240 V |
| Operating temperature (T-T) | 10 - 40 -C |
| Operating relative humidity (H-H) | 10 - 80% |
| Width | 1199.5 mm |
| Depth | 193.7 mm |
| Height | 369.4 mm |
| Weight | 11.6 g |
| Width (with stand) | 1199.5 mm |
| Depth (with stand) | 349.7 mm |
| Height (with stand) | 523.1 mm |
| Weight (with stand) | 14.6 g |
| Package width | 1327 mm |
| Package depth | 497 mm |
| AMD FreeSync 2 HDR | Y |
| AMD FreeSync refresh rate range | 60 - 120 Hz |
| Power cable length | 1.5 m |
| Power consumption (DPMS) | 0.5 W |
| Colour gamut DCI-P3 | 95% |
| TV tuner integrated | N |
| Package volume weight | 20.1 kg |
Other Multimedia
Some of these may not exist; we do not manage these files
Lifetime Hits: 802 Doolz ID: 40525 Price is subject to change without notice. Price and Stock last updated 02 July 2020